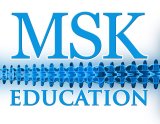 MSK Education
DVD Instructional Videos & On-Site Custom Training
You can order your copy of either or both DVDs by fax, e-mail or on-line.
© 2006 MSK EDUCATION

---
How To Order
Purchase orders may be faxed to 610-340-9054. Purchase orders from customers without accounts will require credit approval or you can include credit card information to process the order without delay.
Purchase Orders by Fax
Credit Card Orders by Fax or E-mail
Order by E-mail: Send us an e-mail indicating your shipping address, your phone number, the DVD you wish to order (DVD-1, DVD-2 or both DVD-1 and DVD-2) and the quantity of each, and your shipping preference (mail, courier, etc). We will respond with an electronic PayPal invoice to your e-mail, which you can respond to in order to pay electronically by credit card or with a PayPal account. Send your email to info@mskeducation.com.

Order by Fax: Please download the order form (PDF file below) and then fax the completed form to 610-340-9054.


Order On-Line
You can pay by credit card (Visa, MasterCard, American Express, Discover) or PayPal account. By choosing this option, your order will be processed immediately via PayPal's secure website. (You do not need to have a PayPal account, but we use PayPal to process your on-line credit card order)






You can order
on-line with
a credit card
Click Here